説明
Blue Grand
Not only a piano instrument, but also a powerful songwriting tool
Blue Grand is a dynamic combination of two distinguished Steinway Grand Pianos combined into one amazing and affordable price. This gives musicians of all skill levels more freedom to create beautiful music and unmatched artistry all their own. 
Blue Grand is not merely a piano instrument, but also a powerful songwriting tool. Blue Grand embodies over 100 piano loops designed by professional composers that cover different styles of music. These will make the whole process easier for the musicians as they can be inspired by the pre-recorded creative music pieces and add extra layers to their music. This will have an immediate result on most music styles. What is more, we also provide different BPM versions for each loop. With this powerful tool, even a starting musician can write professional piano tracks without spending too much time learning composing.
VINTAGE 1927 (STEINWAY D)
Offering a rich, luxurious sound, this Steinway piano produces a dynamic range that can accompany all types of different music, such as pop, jazz, classical, and more.
LIVING STEREO (STEINWAY D)
The perfect blend of crisp, rich tones and stunning resonance, this piano provides your audience with a live, vibrant feeling that's perfect for real-time performances.
HD Velocity Layer 3 with HDR (High Dynamic Range) Technology
The dynamic of a piano is the most decisive aspects of its sound quality. Around 10 years ago, Sound Magic had already applied a True Piano Dynamic system which can represent piano dynamic in the most efficient way. And in years, we keep improving the performance. A True Piano Dynamic means the piano will have different dynamics from low notes to high notes; usually, high notes will have more dynamic range. Now, our True Piano dynamic system enables every note to have its unique dynamic range, and it can be fully controlled by knobs.
Blue Grand is powered by Hybrid Modeling technology and HD Velocity Layer 3 with HDR (High Dynamic Range) technology (support up to 65,536 velocity layers) providing a natural boost to expressive power that can be felt with every strike of the keys. Along with the new Neo Piano engine, which achieves 400 times more variations than a traditional sample engine, every note played is unique, creates vivid sound representation, and strikes a rich, accurate tone even with small movement. In essence, it's an instrument with a musical soul instead of a machine feel. What is more, in this new version we allow you to experience this in a system which only supports 127 velocity layers by applying HDR. This makes this technology can be used without any cost upgrading your MIDI system.
Specially Designed Staccato Mode
When you play a strong staccato on the piano, you will notice that the sound in its release phase is different from the usual sound. This difference adds extra variety to the final sound of the piano – it contributes to the vividness or expressiveness of the piano sound.
To accurately reproduce this staccato sound, we added a specially sampled staccato instrument that could load nad use in your music project.
Add Several Resonances to the Beautiful Sound
Resonances play an important role in a piano's sound. It adds extra beauty to the overall sound. Reality dictates that every grand piano's sizeable soundboard reflects sound that resonates in conjunction with the wooden body of the instrument itself. Indeed, it is this continuous process that makes every note played sound so unique.
Ultimately, in order to simulate this behavior, Sound Magic captured multi-angled IRs (Impulse Responses) from the soundboard, and then used modelling technology to convert those IRs into Multi-Dimensional Resonance algorithms. The result? An amazingly true-to-life concert hall sound readily available at anyone's fingertips!
Sympathetic Resonance happens when Harmonics are heard in keys related to keys that are struck. It is an interaction between different strings and adds extra color to every note's sound. It makes them sound unique so that the audience can enjoy listening.
Sustain Resonance and String Resonance can be heard when sustain pedals are pressed. Although they are subtle sometimes, as a part of Piano resonance, Our Neo Piano Engine has the ability to represent different resonances in the right way, and provide controls on their amount and behavior.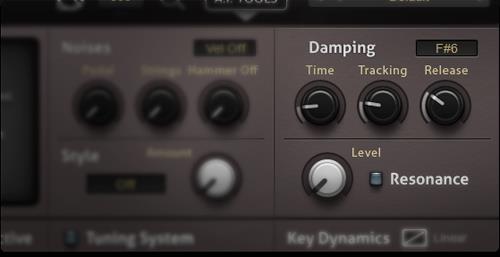 Meticulous Damper Controls
Neo Piano Engine also modelled the behavior of the damper, which controls when the sound should stop. With damper controls, musicians can choose whether it is a newly built piano, or a piano that's 20 years old. Also, it is interesting that users can try to change the material of the damper from soft to hard; they can experience the differences in sound.